We are proud to be a part of your community. To all in the community, we offer and are involved in various events throughout the year. Below is a list of upcoming events, activities, and seminars that we are involved in.
May 2023 Events
June 2023 Events
Grief Group Book Study
Jun 6, 2023 06:30 PM to Jun 6, 2023 08:00 PM
Grief Group Book Study
In this four-week study group, we will explore and discuss Understanding Your Grief in a supportive atmosphere, identifying key lessons and working to apply them as we travel the journey of grief together.
Dr. Wolfelt's book provides a comprehensive exlporation of grief and the ten esssential touchstones for finding hope and healing your heart. The Understanding Your Grief Journal is a companion workbook that helps epxlore the many facets of your grief through guided journaling.
Please purchase and bring your book and journal to each meeting. Both are available on Amazon and
CenterforLoss.com.
Hosted by Linda Dzbanski, LLMSW, BSW, Director of Bereavement Services.
Tuesdays
June 6-June 27, 2023
6:30-8:00pm
A.J. Desmond & Sons Funeral Directors
2600 Crooks Road, Troy, MI 48084
Open to the community at no charge
Registration is required. Regster by phone at 248-362-2500 or email at ldzbanski@ajdesmond.com.
Program closes after the second session.
Great Lakes National Cemetery Tour
Jun 15, 2023 08:00 AM to Jun 15, 2023 12:00 PM
We invite you to attend our Grea Lakes National Cemetery Bus Tour. Breakfast will be served at 8:00am and we will depart from A.J. Desmond &Sons Price Chapel at 9:00am. Learn more about pre-arrangments, veteran benefits, cremation, burials and more.
Thursday, June 15, 8:00am.
A.J. Desmond & Sons Funeral Directors
3725 Rochester Road, Troy, MI 48083
Please RSVP to 248-689-0700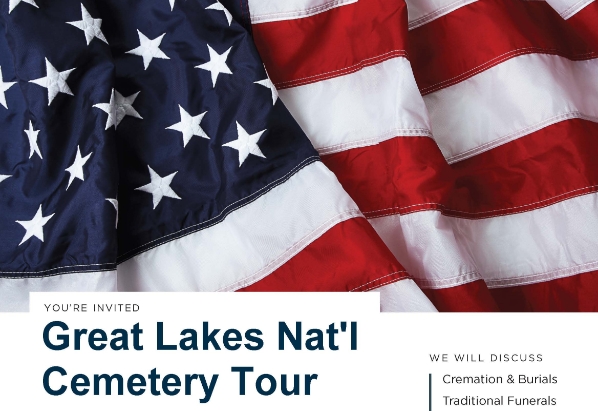 November 2023 Events
Thanksgiving Day 2023 Mighty Gobbler - 5K and 1 Mile
Nov 23, 2023 08:00 AM to Nov 23, 2023 09:30 AM
The Thanksgiving Day 2023 Mighty Gobbler 5K and 1Mile registration is open!
The 9th Annual!
Long Sleeve Shirts with all registrations
Bigger, better, lounder cowbells
Awesome Custom finisher medals to all finers
The best canned food raffle with amazing prizes
the World Famous Tunnel of Turkey!
Benefitting Troy People Concerned
Micah 6 Community
Interfaith Volunteer Caregivers
Hosted by Lutheran Church of the Master at 3333 Coolidge Hwy, Troy, MI 48084
Presented by A.J. Desmond & Sons Funeral Directors
Register at: www.mightygobbler.com